Peranakan food is often cooked with meat – chunks of beef or pork are stewed in slick curries, and shrimp paste forms the foundation of most sauces. But the doyenne of Nonya cuisine in Singapore, Violet Oon, wants to make the cuisine accessible to those with dietary restrictions as well. So over at Violet Oon Satay Bar and Grill, the restaurant has recently launched an expanded menu filled with plant-based and gluten-free variants of its classic dishes.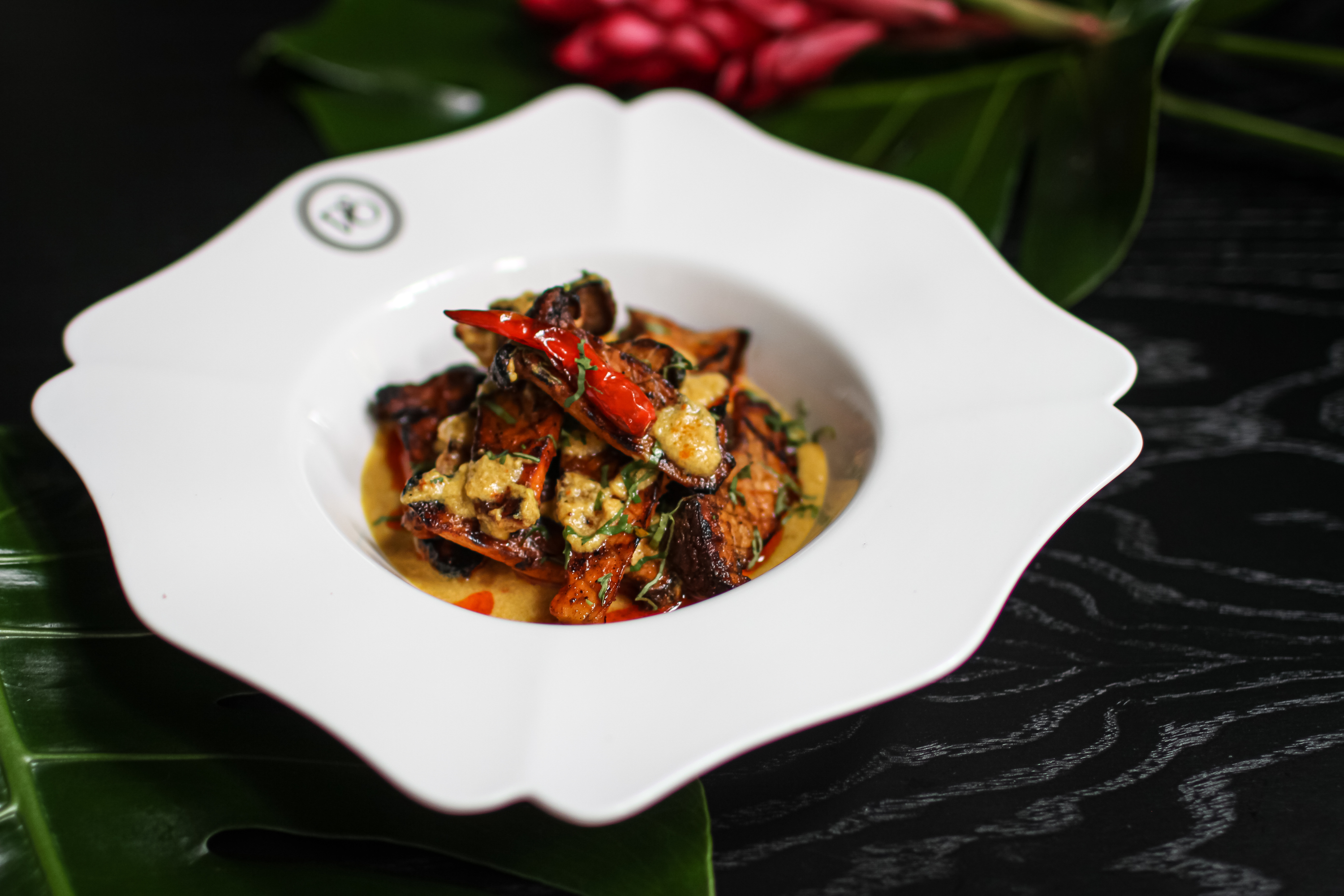 Expect smoke-infused creations from the grill, including the Kunyit Lemak King Oyster Mushroom ($24) where meaty slices of fungi come paired with a turmeric-scented coconut sauce that is reminiscent of laksa. Also worth a try are slices of char-grilled beancurd ($20), drizzled with bracing garam assam and finished with toppings of diced pineapple compote.
Meatless alternatives to the usual Nonya sharing plates remain just as flavourful, too. Satay comes skewered with Impossible meat ($17), and pork is swapped out for juicy shiitake and crunchy bamboo shoots in Mushroom Pong Tay ($20). But the sleeper hit is a version of vegetarian rendang ($18), served with walnut and cheese dumplings. The texture of these meatless meatballs remain chunky and hearty, and even comes with stringy cheese pulls (always a good idea) when bitten into.

While plain rice is typically the best accompaniment – to soak up all the gravies and curries – when having a Peranakan meal, the Nasi Goreng Kangkung ($23) is worth making an exception for. Fried rice comes stirred with morning glory and fried tofu for crunch, and tossed with a fiery-red vegan sambal mixture. If the spice proves too much to handle, temper it down with desserts of classic Kueh Beng Kah ($15), garnished with coconut milk and gula Melaka; or the Pulot Hitam ($14) that comes with dairy-free coconut ice cream.
Looking for more plant-based options? Check out the best vegan and vegetarian spots in Singapore